2012 Events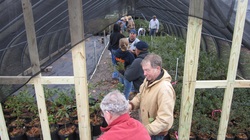 White's Nursery successfully moved "6" greenhouses to the nursery's new more convenient location!
Thanks to family, friends and the American Rhododendren Society

---
George Harding Memorial Garden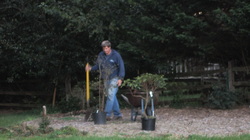 Developed a garden plan and began adding plants. Thanks to the Town of Laytonsville for a great location to remember Pop!

This winter has been hard on the plants. Deer ate most all the leaves off the plants. Sigh!

On April 13 - 14 clean up days have been scheduled in conjunction with the American Azalea Society and American Rhododendron Society to come out and help get this garden moving forward. We always appreciate all the help we get from both societies!


---
Baby Greenhouse complete and full with cuttings for 2014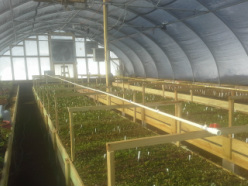 In the Summer 2013, White's Nursery started a new greenhouse for cuttings. We are happy to report that the greenhouse is complete and filled with cuttings to be potted up in Spring of 2014. Both Mike and I would like to thank the American Rhododendron Society and its Mason Dixon Chapter for their support in the construction of this greenhouse.
---